Update: Thanks to Bill Porter, there is a better way to connect the Bescor to the Arduino instead of using the Motor Shield.  I'll try to get a working prototype up this week.  Here's the link
[av_video src='http://vimeo.com/40569055′ format='16-9′ width='16' height='9′]
The Bescor MP-101 pan and tilt is a great cost effective solution for video and photo setups, but it has several limitations.  First off, the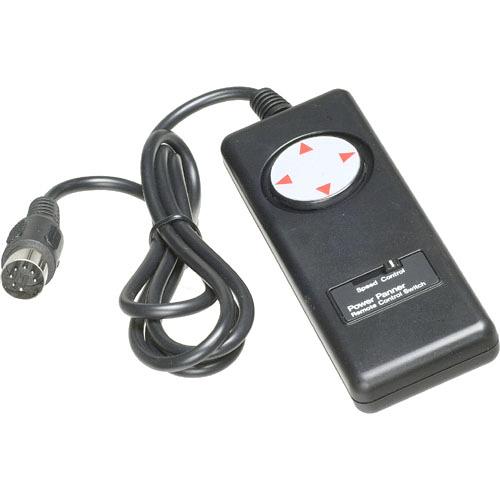 controller only allows movement on one axis at a time.  Also, the speed slider is difficult to use while panning.
I searched for a better remote, but couldn't find one at a reasonable price, so after trying a few experiments, I found using the Nunchuck, the Arduino, and the motor shield together, I could make a great controller.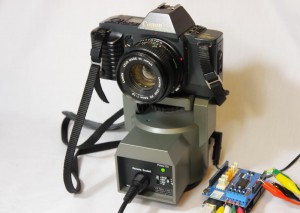 Step 1:

Strip the MIDI Wires
I'll be using a five pin MIDI cable like this one.  It's also possible to use the original cable.  (Note: The wire colors from other cables might be different from the original cable.)
Step 2:

Strip the Nunchuck Extension Wires
To connect the Wii Nunchuck controller, I used this extension.
   Yellow – Ground
   Black – Clock
   Red – Data
   Brown – Power
These wires will connect to the Arduino pins and later I'll show in the code the pin assignments.  If you use a different extension, the wire colors might be in a different order.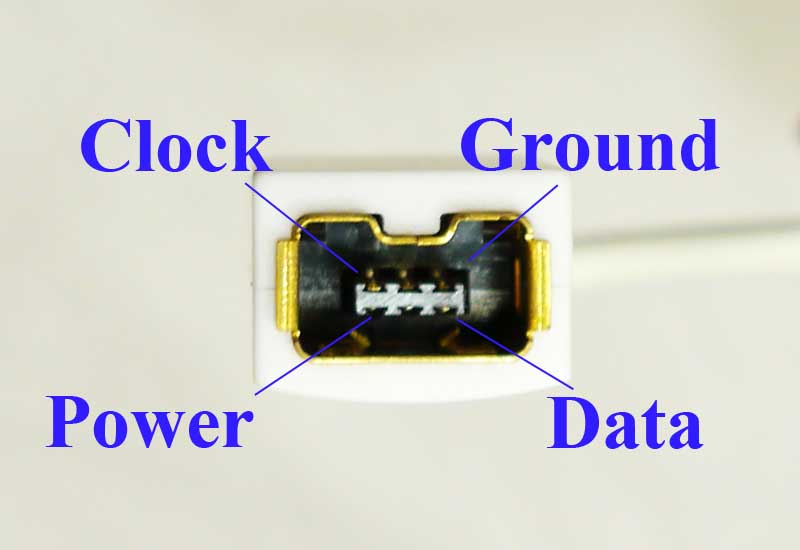 Here is the Nunchuck pinout.
Step 3:

Connect the Nunchuck Wires to the Arduino Motor Shield
The wires are connected as followed on the motor shield: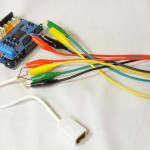 Yellow – GND
   Black – A5
   Red – A4
   Brown – 3.3v
Step 4:

Connect the MIDI Wires to the Arduino Motor Shield
The wires are connected as followed: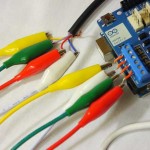 Yellow– (-B)
   Blue – (+B)
   Purple – (-A)
   Red – (+A)
Yellow/Blue – Tilt, Purple/Red – Pan
Step 5:

Program the Arduino
In this step, the Arduino software and drivers need to be installed on the computer.  If anyone's interested in a in depth tutorial about using the Arduino software, please leave a comment. (Update: Here's a link to installing the Arduino Software.)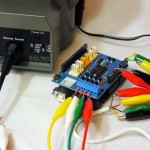 Here's a link to the library we'll be using to get the Nunchuck working.
Each line of code below will be labeled and hopefully help you understand the process.  If you have any questions, please contact me or leave a comment.
1

2

3

4

5

6

7

8

9

10

11

12

13

14

15

16

17

18

19

20

21

22

23

24

25

26

27

28

29

30

31

32

33

34

35

36

37

38

39

40

41

42

43

44

45

46

47

48

49

50

51

52

53

54

55

56

57

58

59

60

61

62

63

64

65

66

67

68

69

70

71

72

73

74

75

76

77

78

79

80

81

82

83

84

85

86

87

88

89

90

91

92

93

94

95

96

97

98

99

100

101

102

103

104

105

106

* Arduino Pan/Tilt http://vimeo.com/40569055

* This program controls the Bescor MP-101 Pan/Tilt system using the Wii Nunchuck

* Copyright (c) 2012 Matt Alford, http://www.protechy.com

* Nunchuck Library created by Gabriel Bianconi, http://www.gabrielbianconi.com/

#include "ArduinoNunchuk.h" // The library used by the Nunchuck

#define motorB 13 // Pin 13 controls the direction of Motor B using the values 0 and 1

#define speedB 11 // Pin 11 controls the speed of Motor B using the values 0-255.

#define motorA 12 // Pin 12 controls the direction of Motor A using the values 0 and 1

#define speedA 3 // Pin 11 controls the speed of Motor A using the values 0-255

//The instance of the Nunchuck class

ArduinoNunchuk

nunchuk

=

ArduinoNunchuk

(

)

;

int

varx

=

0

;

// The x-axis variable to store the value coming from the Nunchuck

int

vary

=

0

;

// The y-axis variable to store the value coming from the Nunchuck

int

absx

=

0

;

// The x-axis variable used to store the absolute value.

int

absy

=

0

;

// The y-axis variable used to store the absolute value.

Serial

.

begin

(

115200

)

;

// Opening the serial port

nunchuk

.

init

(

)

;

//Initialize the Nunchuck code

//Sets up motor pin output

nunchuk

.

update

(

)

;

// The Nunchuck values update in the loop

// Read the values from the joystick and calculate the distance from center

// 130 is the distance from 0 on the joystick

varx

=

nunchuk

.

analogX

-

130

;

// nunchuk.analogX is the value of the x-axis

vary

=

nunchuk

.

analogY

-

130

;

// nunchuk.analogY is the value of the y-axis

// The values used for speed

absx

=

abs

(

absx

)

;

// Convert the x-axis value to an absolute value

// Run motor A based on the input from the joystick

digitalWrite

(

motorA

,

1

)

;

// Direction of the tilt "up"

analogWrite

(

speedA

,

absx

*

2

)

;

// Multiplied by 2 to increase the values 0-255

digitalWrite

(

motorA

,

0

)

;

// Direction of the tilt "down"

analogWrite

(

speedA

,

absx

*

2

)

;

// Stop motor A when joystick is in the center

if

(

varx

<=

1

&&

varx

>=

-

1

)

// Run motor B based on the input from the joystick

digitalWrite

(

motorB

,

1

)

;

// Direction of the pan "right"

analogWrite

(

speedB

,

absy

*

2

)

;

// Multiplied by 2 to increase the values 0-255

digitalWrite

(

motorB

,

0

)

;

// Direction of the pan "left"

analogWrite

(

speedB

,

absy

*

2

)

;

//

// Stop motor B when joystick is in the center

if

(

vary

<=

1

&&

vary

>=

-

1

)

analogWrite

(

speedB

,

0

)

;

// turn off if the joystick is in the center

// Print values for debugging to see what's going on

Serial

.

print

(

", speed "

)

;

Serial

.

println

(

absx

*

2

)

;

Serial

.

print

(

", speed "

)

;

Serial

.

println

(

absy

*

2

)

;