[av_video src='http://vimeo.com/41374127′ format='16-9′ width='16' height='9′]
I started this project a few months ago to record video at a distance of 18 meters.  Most pan and tilt systems I tried were not suited for slower and smoother speeds, but with the modified PT785-S System from ServoCity, I was able to get smoother control.
I used ServoCity's worm drive to get slower motion and more toque.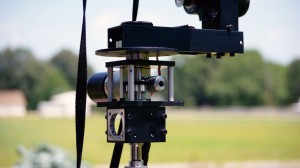 Also, sometimes I needed to mount the camera up high.  This is the light stand I used.  The stand is reinforced with two galvanized steel pipes.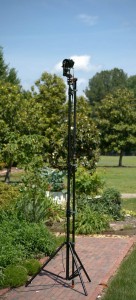 The controller took the longest to build.  This is a early picture of the inside showing the motor driver and Arduino.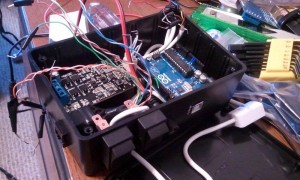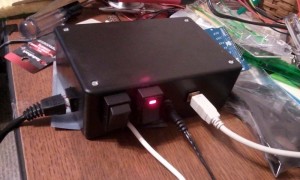 I have a Ethernet cable running to the motors and servo from the Arduino controller.